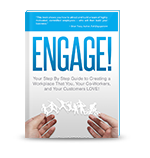 Be! Amazing Magazine Special Edition
Featuring In-Depth stories from our Amazing Companies that share insights and inspiration.
Access to Jean Oelwang, CEO Virgin Unite, Video Interview. Jean shares insights to the good work that Virgin Unite is doing and how they are leading several initiatives to transform out world by using business as a force for good.
Living Your Highest Potential Quiz App
Are you living at your highest potential? Take this short quiz and get your scores!
Access to Amazing Leaders 3 Part Interview Series - Gain incredible insights from top leaders actually doing the hands on work to just HOW Virgin, Southwest Airlines, and PUMA are transforming the way we do business featuring:
1. Amy Leaper - Head of People Strategy, Virgin Group Management.
2. Cheryl Hughey - Director of Culture Services, Southwest Airlines
3. Stefan Seidel - Head of PUMA Safe, PUMA