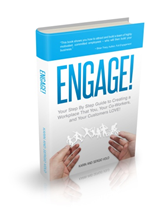 Congratulations! You're about to learn how 15 Amazing Companies are leading the way to a new way of doing business.
It's time for a business evolution to higher productivity, profits and impact through people engagement.

Download here:
Engage! Your Step By Step Guide to Creating a Workplace That You, Your Co-Workers, and Your Customers LOVE!
SOCIAL SHARING HERE!
This book shows you how to attract and build a team of highly motivated, committed employees – who will then build your business.
Brian Tracy, Author, Full Engagement
A delightful collection of valuable insights to help you succeed with a purpose driven company. This book points towards an uplifting future where learning and serving are essential to stay relevant, and to stay in business.
Ron Kaufman, New York Times bestselling author of UPLIFTING SERVICE
Recognizing your employees is just one step that can transform any company. This book is an easy and inspiring read that will make you realize it IS possible to create an amazing company and have your employees thriving.
Razor Suleman, CEO and Founder of Achievers